MANILA, Philippines – For the past few weeks, an unfamiliar name surfaced throughout social media about a certain foreign born player who was interested to play for the Azkals.
Levi Gilmar Fernandez, a Filipino-British striker who is currently on trial with Scottish Championship club Alloa Athletic FC, said on Twitter that he's interested in playing for the national team of his mother's home country.
Born to a Filipina mother and a former Crystal Palace FC booter, Fernandez have high hopes that he will be in an Azkals' kit before the upcoming 2018 World Cup qualifiers
"
Well, my friend actually first told me that the Philippines had a national team when I was at Dagenham and after that I was interested," said the aspiring Azkal in an interview with Rappler.
He added that the friend he was referring to, whom he did not name, had been a former teammate of Neil Etheridge at Fulham FC.
The 21-year old footballer has been with different clubs including Malta-based division one team Balzan Youth FC and English fourth tier club Dagenham & Redbridge FC.
Fernandez, who has been referred to as the next Neymar due to their similar looks and style of play, asserted that his management is now in contact with the people behind the national team in hopes of acquiring a slot to play for the Philippines.
"My agency is in contact with Mr. Dan Palami who first gave me the look in but I've just been called up for the U22's but my main focus is for the Azkals' and getting that call up for the World Cup Qualifiers."
"I've seen a few highlights and one game and I can see the team is more attacking, I think I could 100% fit into Coach Dooley's system if given the chance as my main attribute is attacking."
England-based agent Steve Mac claimed that the young player is set to be loaned to UFL-side Stallion FC during the next transfer window in April as they are currently in contact with the local club's management.
"He will go on loan in April to Philippinesclub Stallion FC from Alloa Athletic. Head coach Ernie Nierras will help him off the pitch with getting the right documents to the Azkals first team squad."
Meanwhile, when reached for a comment, coach Nierras declined to issue a statement regarding the matter and stressed that he will make the announcement once the deal is official.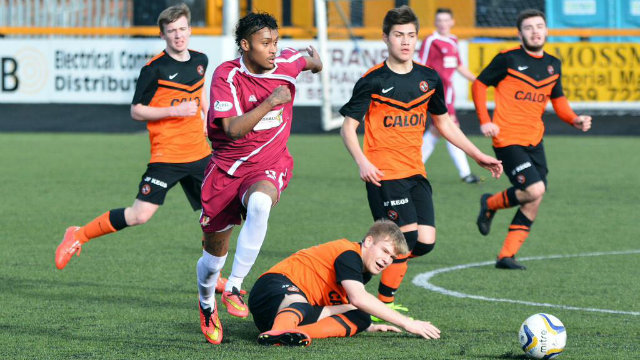 NEW AZKALS STRIKER? Fil-British Levi Fernandez is looking to bring his attacking style tot he Philippine National team. Photo from Fernandez's agent Steve Mac
"Alloa Athletic have confirmed the signing of Levi Fernandez on a youth contract - the player will train with development squad "