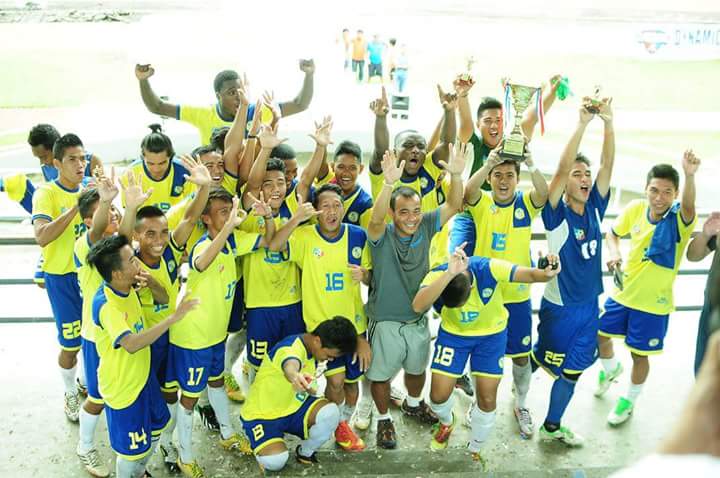 The PFF SMART Provincial champion with mentor/coach John Carmona. CPSU beats Ceres La Salle today.
--------------------------------------------------------------------------
Match report :
http://www.sancarloscity.org/news/cpsu-san-carlos-dethrones-ceres-la-salle/
WILL the San Carlos City Booters get the right to wear the Negros Occidental Football Association (Nofa) uniform in the upcoming PFF-Smart Club Championship regionals?
Will defending champion Ceres-La Salle Varsity allow tough contender Central Philippine State University (CPSU) to dethrone them in the provincial qualifying at the Panaad Park and Stadium?
It will be answered on Sunday when the Lasallian Varsity tries to bounce back from their 1-2 opening loss against the San Carlos City squad of John Carmona. CPSU has become a concern for all Bacolod-based schools after finishing on top with a clean 4-0 win-loss record in the elimination round.
Nene Lazarito's Ceres-La Salle Varsity was at striking distance, however, at No. 2 with 2-1-1 win-loss-draw card. CPSU completed its last assignment with a 6-2 blast of Kabankalan City FC while the defending champions were forced to a draw by long-time rival University of Negros Occidental-Recoletos, two-all.
Hitmen for CPSU are Nino Aledro with two goals in the 64th and 80th minutes; John Elton de Arce (18'), Floric Boyonas (39'), Jeff Papparon (65') and Vincent Ortegas (77'). The Southern Negros team relied on Oriel Tejada (2') and Julious Ramirez (25').
Stingers' Charles Ivan Barberan rolled in his ball in the 32nd minute to give the Lasallians a goal lead at the break. Rams' Archie Nemenzo scored the equalizer in the 59th minute.
The defending champion pushed harder and Joshua Dutosme fired the second goal in the 73rd minute. The never-say-die Marie Domecillo forced the draw in the 80+5'.
Lazarito will rely on Florence Agraviador, Regie Cisneros, Chang Ki, Harunori Aoki, Warren Bedia, Angelo Bahoyan, Elimona Usman, John Mark Jamelo, Shane Sarmiento, Joebel Siason, Ashli Pamilar, Carlos Pinote, Van Llyod Baguioro, Floric Boyonas and Karl de Jesus.
Carmona's CPSU will be bannered by Angelo Padilla, Jasper Layagon, Charles Emeji, Jimmy Malalo-an, Adrian Tiongson, Vendell Marcellana, Archie Pamilar, Maji Taniform, Diomar Caruscay, Julianne Paolo Caraballe, John Kenneth Rafael, Jordan Junco, and Karl de Jesus.
Published in the Sun.Star Bacolod newspaper on August 06, 2015.