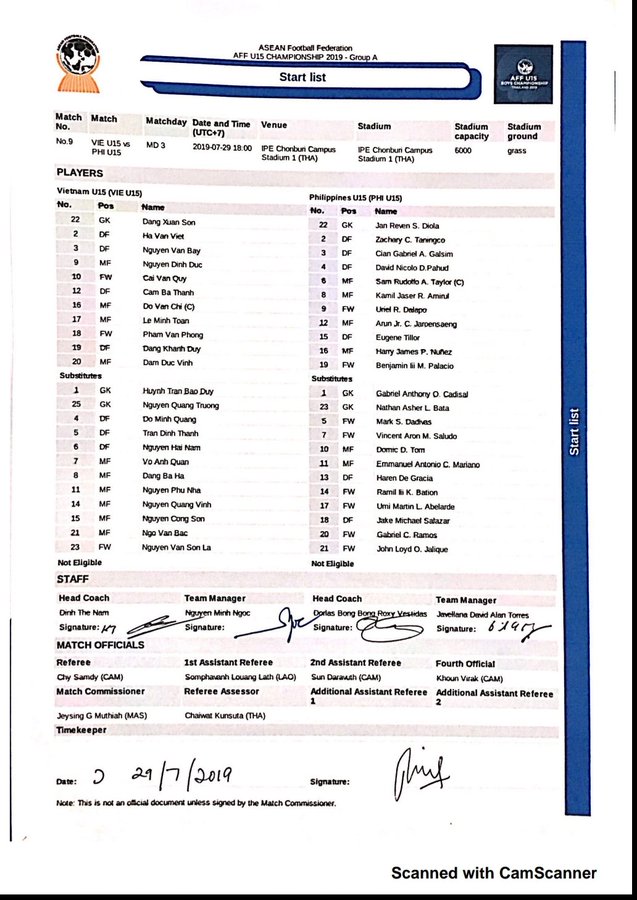 After tripping up against Indonesia in their opening match, Vietnam were determined to get back into contention which meant gunning for full points today. The Filipino players were also seeking some form of redemption after their heavy defeat and put up a strong resistance in the first part of the match including blocking two close-range attempts from striker Cai Van Quy.
Their luck ran out in the 25

th

minute when a weak clearance landed in the path of Pham Van Phong who scrambled the ball into goal. Soon after the second half resumed, Vietnam extended the lead, through Van Quy in the 47

th

minute. Two minutes on, Vietnam were in a comfortable position after Van Quy stabbed a rebound into goal.
Vietnam were hungry for more but were denied any further celebrations by the brave heroics of goalkeeper Jan Reven Diolo. He took a few hard hits but picked himself up to battle on. In the dying moments, midfielder Harry James Nunez blasted his team's only goal of the match.
Vietnam coach Dinh The Nam was happy with the result but not entirely pleased with the team's performance: "Winning 3-1 was a good result for us, but I was not satisfied with the team. For the next match against Singapore, we must get three points."
Philippines coach Dorlas Bong Bong Roxy Vestidas saw the positives in his team's defeat today: "The last game against Timor Leste was our first international together as a team. After that game, we knew the level of competition, we know the intensity of the games outside our country. We had the right mindset and training, and I the players were positive going into this game, and that is the reason why we were able to get a positive performance."