FIFA World Cup qualifier
Yemen vs Philippines in Qatar SC stadium ,Doha, Qatar
Free entry
Start : 19.00 in Qatar . Midnight in Philippines
Tv : ABS CBN Sports & Action , start 23.45
Livescore :
http://www.fifa.com/worldcup/matches/round=275171/match=300317518/index.html
Referee :
Dmitriy MASHENTSEV (Kyrgyzstan)
Livestream link :
https://www.youtube.com/watch?v=YyqfxMOjmhA
Geoblocked in Philippines and Middle East.
For those countries which are blocked, use web proxy. Go to https://kproxy.com/ and copy and paste the url of yemen vs phil by afc asian cup channel. I have tested this during bahrain vs phil and it worked here in the philippines. Best luck!
Azkals Starting XI vs Yemen : Etheridge, Sato, Woodland, Lucena, Palla, P .Younghusband , Ott, Steuble, Ramsey, Patíno, Bahadoran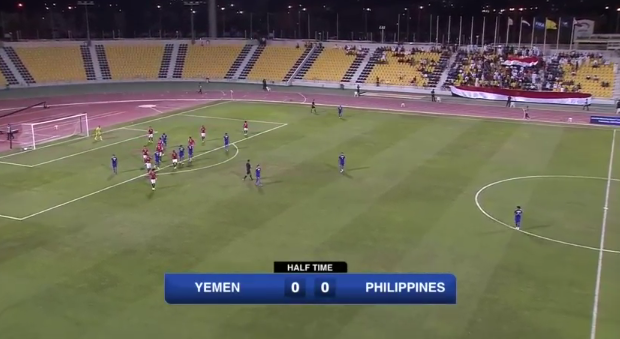 52 mins 0-1 Misagh Bahadoran
69 mins Reichelt in, Bahadoran out
74 mins 0-2 Iain Ramsay
78 mins Villanueva in , Palla out
Ingreso in , Ramsay out