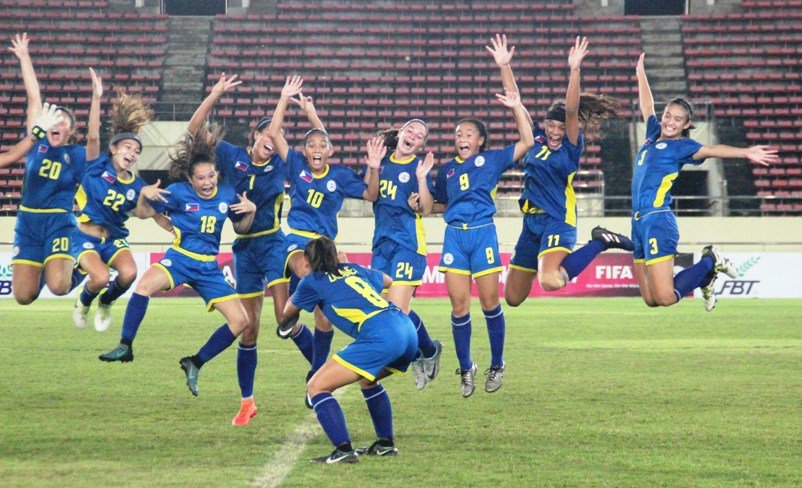 VIENTIANE (18 May 2017) – A screamer from lanky midfielder Myria Garcia four minutes to the end put the Philippines in the final of the AFF Under-15 Girls' Championship 2017 when they edged a determined Myanmar side 3-2 in the second semi-final tie that was played this evening at the KM16 National Stadium.
The game was always going to be close between the Philippines and Myanmar with the former having shown their consistency in the group stage while for the latter; their fighting spirit paved their way to the final four.
"It was a very hard game and my credit to the Myanmar girls for the effort they put in today. But we were confident as we had beaten them last year (at the AFC U14 meet)," said Philippines head coach Mariella Benitez.
Making little changes to the side that had played in the last game, the Philippines were the early aggressor with Maria Lazo, Garcia and captain Gabriella Collatos pulling the string.
But Myanmar were not taking things lying down with striker Su Pyae Pyae Kyaw and also Myat Noe Khin working in tandem to terrorise the Philippines backline.
A double chance in the 14

th

and 19

th

minute went a begging as the Philippines then replied through Aleander Yap but whose twice attempt was blocked by Myanmar keeper Htet Eindra Lin.
But with just two minutes remaining of the first half, the Philippines finally found the back of the net when Garcia stabbed home the cross from Yap.
The score at the end of the first half was 1-0 to the Philippines.
Myanmar came barging into the second half and just seven minutes in, a cross from Noe Khin was slammed into goal by Pyae Kyaw.
Five minutes later in the 52

nd

minute, Myanmar went ahead for the first time in the game where off a poor clearance from Philippines defender Alessandra Villalon, the always running Pyae Kyaw ran the ball in to beat keeper Rizamee Ugbanial for only the second time in the competition.
But the Philippines girls showed plenty of guts as they regrouped and started to pressure Myanmar and in the 57

th

minute, they found the equaliser through Viviane Cera, who blasted the ball in after the Myanmar defenders failed to clear the cross.
And with four minutes remaining, Garcia unleashed a superb screamer from 20metres out for the winner.
With the win, the Philippine will now take on Thailand in the final of the championship in two days.
SEMI-FINALS – 18 May 2017
(Third & Fourth Placing) 1600: Cambodia vs Myanmar
(Final) 1830: Thailand vs Philippines
http://www.aseanfootball.org/v2/2017/05/girls-u15-garcia-screamer-puts-philippines-final/