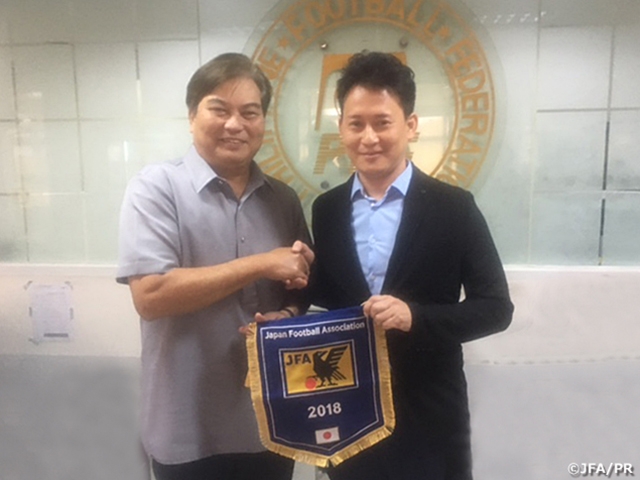 For the development of football in Asia, the Japan Football Association has been dispatching technical experts to many countries in Asia. Today we introduce Mr. MIZUSHIMA Musashi and Mr. HIRATA Reiji, who has just started their new assignment in Cambodia and Philippines respectively.
HIRATA Reiji, Head of Youth Development in Philippines
I have landed this beautiful country to work as the Head of Youth Development of the Philippines Football Federation (PFF). This country has a population of 100 million with an average age of 23. People here takes great care of their family, loves festivals, and football has been very popular recently. The national team consists with not only domestic players, but players with different roots, including players with German, English and Japanese backgrounds. The team is called "Azkals" meaning mixed-bred wild dog in the native Tagalog language and the team is gaining more and more recognition in Asia. This diversity is a strength that we can expand on. Working together with the PFF President Mr. Araneta and everyone involved, I will do my best to develop the youth and help football in the Philippines move forward.
http://www.jfa.jp/eng/news/00016130/?utm_source=dlvr.it&utm_medium=twitter